Billy and Marilyn's Gift Annuity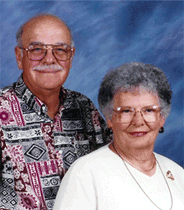 As farmers in central Illinois, Billy and Marilyn were very blessed. "The Good Lord provided us with many good years on the farm. We are grateful and want to give back." They both have been giving back for many years. Marilyn was a room mother for her daughter's class, she was a Brownie Troop leader, she sang in her church choir and she served others by visiting nursing homes and doing women's hair. "They enjoyed the attention and felt good about themselves. It's something I could do...roll and set their hair in curlers, provide a trim here and there, and a friendly conversation."

Billy also has a generous heart. When the circus came into their town of 1,250, he bought tickets and gave them to the local police to distribute to children who wanted to go. "I enjoy helping people and seeing people smile." He and Marilyn also recently established a scholarship at Olympia High School in honor of their late daughter Colleen Hoch Arbuckle.

They also both think a lot of The Salvation Army. Marilyn's mother never passed by a Salvation Army kettle without dropping in some change. Marilyn remembers this simple act of kindness years later. Billy also recalled when his sister, who didn't often rave about anything, highly recommended The Salvation Army to him. "She pulled me aside one day and took me by the arm and said what a great organization The Salvation Army was," remembers Billy.

Though Marilyn's mother and Billy's sister have passed on, their legacy continues to live on in Billy and Marilyn's lives. When Billy and Marilyn were reviewing their will, they began making a list of the charities they wanted to benefit in addition to their only grandson Craig. As they reviewed their will, they discovered the benefits of a Charitable Gift Annuity. Rather than bequest the funds to The Salvation Army in their will, they chose to give now, receive a sizeable tax deduction in the year of their gift, and receive a monthly income which is deposited directly to their checking account the last day of the month. This suited their desire to give and their desire for some income.

"We are very pleased to remember my mother and Billy's sister who gave so much to us. We are proud to pass on a contribution to The Salvation Army," said Marilyn.